In this episode of "Under The Hood", I spent some time chatting with Rainbow Studios Senior Artist, Misty Parnell about her visionary work on one of our favorite outdoor environments, WASTELANDS.
Misty is an experienced 3D environment artist with a demonstrated history of working in the games industry. She is skilled in world-building, multi-platform game development, and traditional art. She is a promoter of positivity and a lover of all things magical! Let's take a peak at what was going through her mind when she was asked to bring this world to life:
Q: What is your position at Rainbow Studios, and how long have you been working for the company?
Currently, I am a Senior Artist at Rainbow Studios, where my job consists mostly of creating environments and world building. I have been happily employed for over 3 years.
Q: What was your inspiration for this environment?
When creating the Wastelands, we visualized a world left behind and tortured by time. The Wastelands is a post-apocalyptic desert in which most of human civilization has collapsed causing the remaining population to congregate into scrapyard-shantytowns. My inspiration came from the many movies and videogames that are set in a post-apocalyptic wasteland where it shows the crushing reality of a world without order.
Q: What makes Wastelands different from environments in MJST1?
This zone was inspired from Monster Jam Steel Titans, we wanted to expand on more of what people loved in the first game, while adding a touch of fantasy to the mix.
Q: The Wasteland level features:
Waypoints, Races, Collectable items, and more Monster Jam Trucks to add to your collection.
Q: What trucks come from Wastelands?
Doomsday, Earthshaker, El Torro Loco, Gas Monkey Garage, Max-D, Stone Crusher
Q: While there is no official storyline of Wastelands, did you create any background lore to motivate you when building your world?
There is not any official lore, but working with my team, we would talk about what could have happened in the Wastelands to help inspire the gameplay and the zone art. The Demolition Crew, an archetype of Monster Jam trucks, particularly belonging to the Wastelands, has reclaimed this zone as their own. The Wastelands is an abandoned mining town, that was left behind due to a lack of resources. The only things that could survive in this hostile environment were the nomadic Demolition Crew.
Q: Where do you like to hangout in the map?
If I am not rallying up the enormous scrap ramp on the makeshift racetrack, I love to jump my truck off the giant dunes.  There are a lot of intriguing and exciting places to explore in the Wastelands, but the shanty town, Wreck Ally, is my favorite.
Q: How many other artists helped to work on this world?
While I was responsible for the look and feel of the area, there were other artists working on props, textures, materials, special effects, and lighting. I worked with Designers, Engineering, Audio, and Production as well. Monster Jam Steel Titans 2 was a full group collaboration.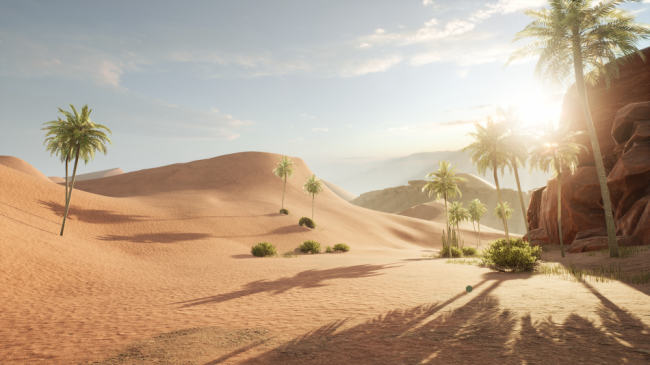 Q: Is there a part of the map you are particularly proud of?
I am very proud of this entire Zone. To me, the coolest part of the map is the racetrack. I love how we were able to take a bunch of junk and make a fun track out of it.
Q: How cool is it to drive a Monster Jam truck in a world you made?
Well, seeing as it a wasteland, it's fire! Everything about this zone provides a high impact racing experience.
A: Any parting words for fans excited to jump in and explore Wastelands?
The dev team and I would like to thank you for playing Monster Jam Steel Titans 2. Get in the game and go explore!
Share your favorite Wasteland & Demolition Crew screenshots & videos with us on social media at @MonsterJamGames on all platforms!